Headquartered in Kelowna, Appelt Properties (previously, RISE Commercial Developments) brings a dynamic and experienced team who share a passion for bringing development visions to life. Over the last decade Appelt Properties has developed/acquired over 1 million square feet mixed-use residential and medical space across the country with a further 1 million square feet under development. The Appelt Properties' focus is on mixed-use and commercial developments and the approach is to hold the assets once complete. This long-term view translates into a commitment to quality and timelessness that can be seen in the properties that Appelt Properties develops. As proud residents of Kelowna, the Appelt Properties team is deeply committed to working on high quality projects in key areas of the City. 350 Doyle is a project that exemplifies the Appelt Properties teams' commitment to collaborate with the City of Kelowna and the community - in developing a long-term community amenity and much needed rental housing in the downtown core. For more information, please visit: www.risecommercial.ca

Wexford Developments is a real estate development and management company based in Calgary, Alberta with over $440 million and 860,000 square feet of assets under management. Focused on Western Canada and Southwestern United States, Wexford is primarily involved in urban residential rental and mixed-use projects. Wexford is a lean, young, entrepreneurial team involved in projects at every scale, from a 300-acre master-planned land development to a 28-storey urban residential rental building. Wexford's goal is to make meaningful contributions to cities and local communities and accomplishes this by bringing creativity to the creation of amenity spaces, commissioning local artists for public works, and rehabilitating contaminated sites. Wexford's hands-on approach to development gives us a deep knowledge of those we build for, partners we collaborate with, and each stakeholder in the business of development. For more information, please visit: wexforddevelopments.com.
Appelt Properties and Wexford Developments have a collective history dating back to 2013. This strategic partnership brings together two lean, agile and entrepreneurial developers creating a collaborative and unified approach. The partnership lends itself to forward-thinking and innovative development. Appelt Properties and Wexford Developments are long-term holders of the real estate they develop. Retaining their assets impacts the care and attention brought to every stage of development and translates into active management in the day-to-day, once the building is complete.

The Shore, a mixed-use development on Lakeshore Road in Kelowna, is evidence of this successful partnership. The Shore began in 2015 with a vision to bring vibrancy and life to Gyro Beach and the Pandosy corridor. After successfully consolidating adjacent properties, the team rezoned the land and secured development approvals. The Shore was recently completed and is arguably the nicest purpose-built rental building in Kelowna. Zeidler is the architect on this project and both Appelt Properities and Wexford Developments have a long-standing history with the Zeidler team, having developed projects across Western Canada.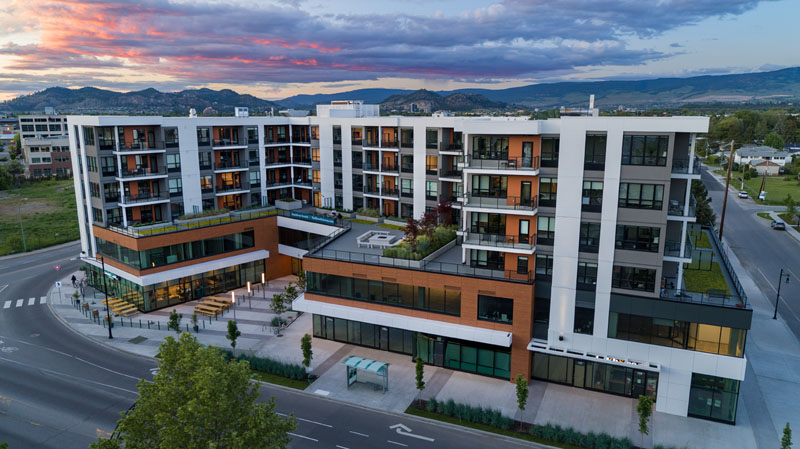 Zeidler has been active in Kelowna and Okanagan over the last 20 years, designing and delivering notable Kelowna developments such as the Grand Okanagan Resort and Private Residence Club, The Madison, Centuria Urban Village, Park Place, The Shore which is currently under construction across from Gyro Beach and the Central Green master plan. For more information, please visit: zeidler.com.