350 Doyle will bring many benefits to Kelowna's Cultural District with new community spaces and amenities that will activate and enhance the neighbourhood.
Extension of the Community ArtWalk + Civic Plaza
As a key component of this proposal, we will be responsible for the construction of the southward extension of the City's ArtWalk, completing the pedestrian connection from Queensway to Doyle Avenue. The ArtWalk extension will include a civic plaza that connects directly with the Creative Hub (housed within the development and also part of this proposal). We will work closely with the City of Kelowna and community stakeholders on the vision and design for the ArtWalk extension, which will be completed in conjunction with construction of the building.
Creation of a Community Creative Hub
Another key aspect of our proposal is the commitment to creating community space - a "Creative Hub" - near the northwest corner of the site and adjacent the civic plaza. This two-storey, 6,000 square foot, space will be prominent and highly inviting to the community. The Creative Hub will be home to a variety of art and performance groups and will be fully programmed and operated by the City of Kelowna.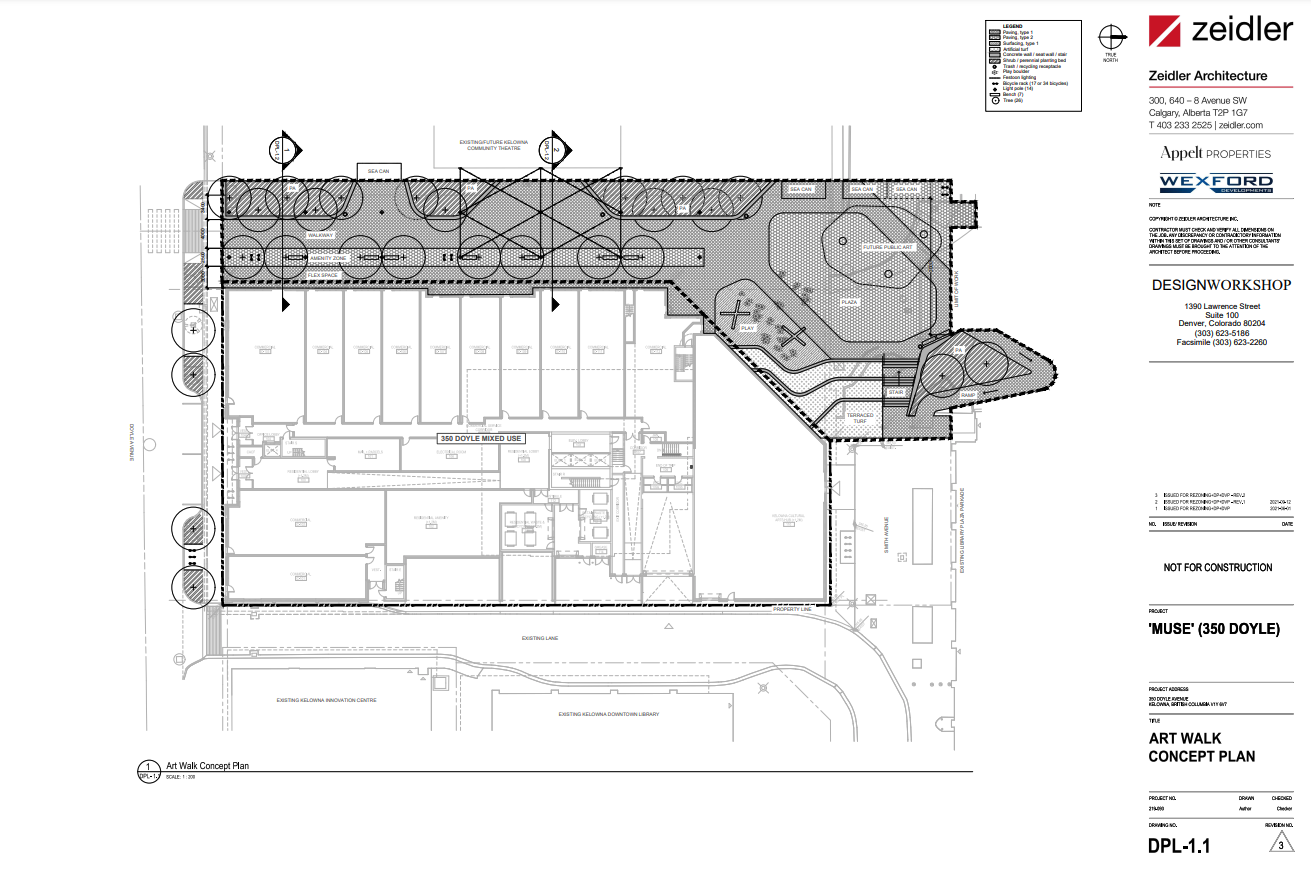 View Doyle ArtWalk plan
Pedestrian-Friendly Retail & Commercial Space
Another important, character-defining element of the Civic Precinct is the spacing, size and variety of grade-level uses. The design for the street-front spaces is aimed at preserving the neighbourhood character by favouring small retail and service oriented shops, at grade - consistent with neighboring precedents and augmenting Doyle Avenue and the ArtWalk.
A creative mix of retail uses and sizes will also encourage an eclectic mix of shops and restaurants, a key component of successful street-oriented retail precincts. A healthy and inviting street edge is the key to a successful lease rate, low vacancy rates and the sustainability of great spaces.
The proposal includes approximately ± 1,384m² (± 14,900 ft²) of street-level retail space. These "active retail" uses (e.g. food & beverage w/patios, convenience retail, specialty retail) will create a dynamic street front along the proposed ArtWalk extension and along Doyle Avenue.
The proposal also includes ± 1,303m² (± 14,025 ft²) of 2nd floor office employment area, bringing additional activity to the area.
A Welcoming Public Realm
350 Doyle's podium levels (Main Floor + 2nd Floor), are being designed to create a highly-active pedestrian zone that connects with the ArtWalk and Civic Plaza spaces and which is accessible, attractive and welcoming to the community.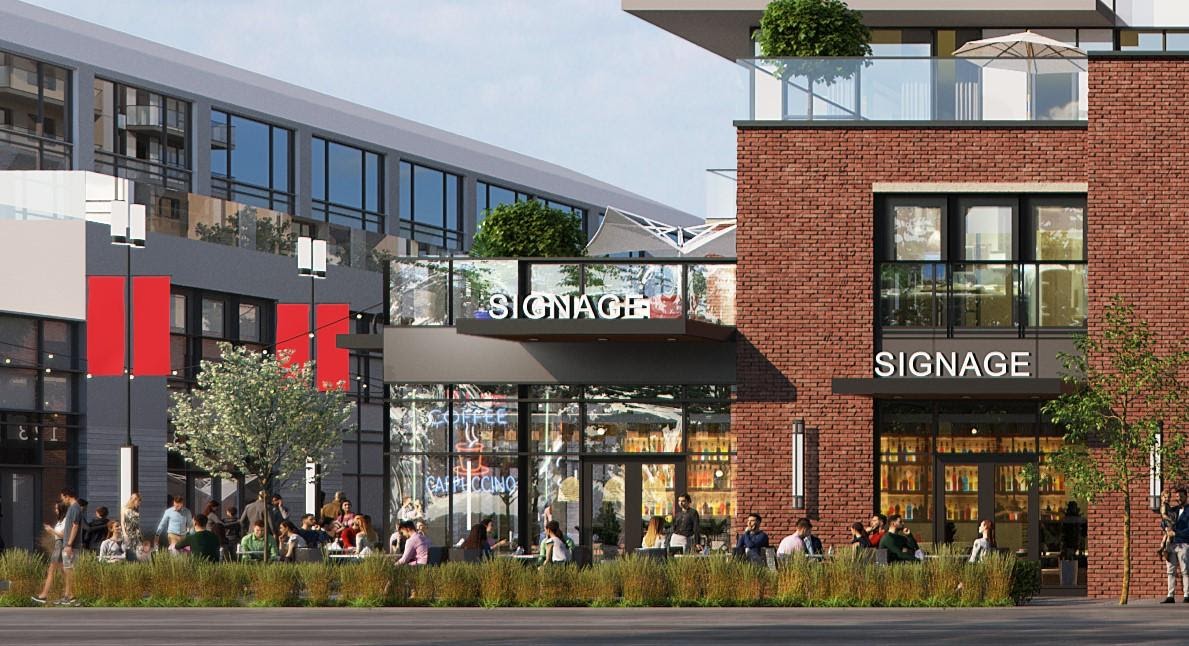 Design elements will include:
Use of historic Kelowna building materials and details that reinforce the existing character of downtown Kelowna such as historic tumbled red brick masonry, sandstone detailing, black-framed windows, building lighting and entrance canopies.
The podium will be highly detailed, with recessed/covered retail entrances, façade recess /projections and lighting.
Particular attention is being paid to the Retail-to-ArtWalk interface, allowing for spill-out restaurant patios and side-walk sales - enticing pedestrians to explore this development and the greater ArtWalk.
Intensive decorative paving, planters, trees, benches, bike racks, lighting and additional urban furniture elements along the ArtWalk and Doyle Avenue will create a unique and inviting public pedestrian realm.
The integration of the ArtWalk, Civic Plaza and Creative Hub will further promote an active and diverse public realm at grade.
Our 'ground plane' concept is aimed at preserving existing character by favouring small retail and service-oriented shops at grade. The design concept reflects neighbourhood precedents with a creative mix of retail uses and use sizes that will bring additional activity to the area since a healthy and inviting street edge is the key to retail success and low vacancy rates.
We have engaged an internationally-known landscape and urban space consultant and we are working with the City, our neighbours and stakeholders to develop and refine the public space plan. A more detailed design for the public spaces will be part of the development permit application materials.